When and how did this happen?
I always feel the the 4th of July is the middle point of summer, and that it is scary!
I am linking up with Farley at Oh Boy Fourth Grade for her monthly linky party. Click the link below to visit her blog or here to link up!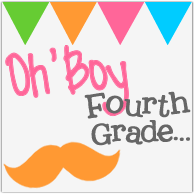 I love summer because I have a chance to become involved in things besides school. I am training right now to be a Court Appointed Special Advocate for a child in need. I am absolutely in love with this organization and I can't wait to get started. Click HERE to learn about National CASA.
I was just able to go back into my classroom a few weeks ago. OH MY! I had to pack up most of my stuff so everything could be cleaned and then all of my furniture was moved around. I barely recognized my room. I need to get busy! Which makes me want to go to Lakeshore Learning and buy new things for my classroom! Also, did you know that some teachers have never heard of Lakeshore Learning? I know, right? If this is you please click this link NOW.
My save the dates are printed and ready to go! I just need to get everything stamped and addressed. Easier said than done.
My tip is to order yourself an Erin Condren Lesson Planner. I love mine! It really helps me to have everything in one place. Find something that helps keep you organized and stay on top of it.
Have a Happy 4th of July! Thank you to all of those who fight to protect our freedom each day. God Bless America!